Can you guess who mentored Mark Zuckerberg?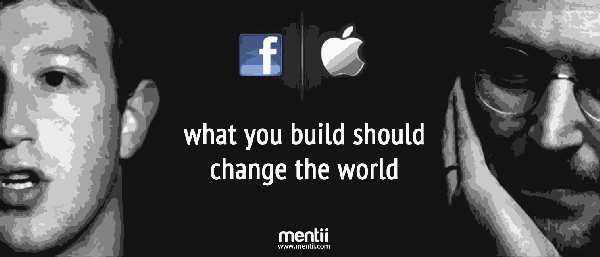 by  Aditya Maheshwari Mentii
Apple and Facebook have been known to butt heads at the negotiation table but that never stopped Apple co-founder Steve Jobs from dispensing some sage advice to Facebook CEO Mark Zuckerberg.
Steve Jobs and Zuckerberg developed a relationship in the early days of Facebook; The New York Times reported them often taking walks in Palo Alto. Zuckerberg talking about the nature of his relationship with Jobs said that the bond they shared went deeper than breaking bread with President Barack Obama. Mark Zuckerberg said Steve Jobs admiration for him was mutual.
The young Facebook CEO says that he was moved that the Apple co-founder respected him for not selling out.
"I know that's one of the ways in which – in which we saw eye to eye on kind of what we were trying to do in the world," Zuckerberg said. The 27-year-old CEO said Jobs gave him advice on developing a management team that was "focused on building as high quality and good things as you are." Before Jobs passed away, he revealed to his biographer Walter Isaacson that he served as a mentor to Zuckerberg.
Also, when Jobs passed, Zuckerberg posted this on his Facebook page, "Steve, thank you for being a mentor and a friend. Thanks for showing that what you build can change the world. I will miss you."
Zuckerberg shared the three lessons to consider when mentoring someone:
Share the mentee's enthusiasm for learning something new; the joy is contagious.
A small amount of time invested on your part to share your expertise can open up a new world for someone else.
When the spirit of reciprocity prevails, both the mentee and mentor gain from the exchange.
References:
* http://www.nbcsandiego.com/blogs/press-here/Steve-Jobs-Mentored-Me-MarkZuckerberg-133456048.html#ixzz2VnWJa48v
* http://www.youtube.com/watch? feature=player_embedded&v=EGS96s9saL0#t=0s
* http://www.businessinsider.com/steve-jobs-mark-zuckerberg-walter-isaacsonfortune-brainstorm-2012-7
https://www.evidencebasedmentoring.org/wp-content/uploads/2015/09/Screen-Shot-2015-09-13-at-9.00.23-AM.png
344
807
Jean Rhodes
https://www.evidencebasedmentoring.org/wp-content/uploads/2023/03/chron-logo.jpg
Jean Rhodes
2015-09-13 09:02:47
2018-06-12 13:36:48
Can you guess who mentored Mark Zuckerberg?